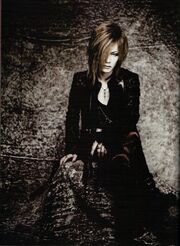 Real Name: Takashima Kouyou
Part: Guitar
Date Birth: 9th June 1981
Blood Type: O
Birthplace: Kanagawa prefecture (Shounan district)
Height: 177 cm
Weight: 62 kg
Foot Size: 27.5 cm
Ring Size: 19 cm
Family: Father, mother, 2 older sisters, 2 nephews
Piercings: 4 on the right ear, 5 on the left ear
Tobacco: Marlboro Menthol Light, Maremen Light, PIANISSIMO (This year he tried to stope smoking, but he failed.)
First Copied Song: Luna Sea - In My Dream
Liked Type: Gentle, grown-up person
Disliked Type: Someone with a bad personality
Strong Point: Pace
Weak Point: Pace
Likes: Drinking champagne, cutting movies
Message: "Whatever happens, don't give up on your dream! Be strong that no one can control you!"
Previous Bands: Karasu, Ma'die Kusse, Kar+te=zyAnose
Ad blocker interference detected!
Wikia is a free-to-use site that makes money from advertising. We have a modified experience for viewers using ad blockers

Wikia is not accessible if you've made further modifications. Remove the custom ad blocker rule(s) and the page will load as expected.