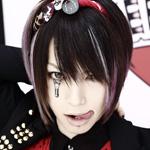 Real Name: Takeshi Miyamoto
Part: Vocals
Date Birth: 11 May 1987
Blood Type: O
Birthplace:
Height: 162 cm
Weight: 49 kg
Foot Size: 24.5 cm
Ring Size: cm
Family: Mother and older sister.
Favorite Perfumes: 

</li>

Favorite Bands: 

Strong Points: 

Weak Points: 

Likes: Watching movies, shopping, cute things

Pets: Paku paku (his chihahua)

Favorite Phrase: 泰山北斗 (TAIZAN Hokuto)

Previous Brands: MALKOMALKA, Phillip Brown, ktz, Bernhard willhem, galaxxxy, GUT DYNAMITE, cabarets, LINDA, CANNY, SPX OS VEGA, new ERA

Message: Show your lovely smile only to me ♪
Ad blocker interference detected!
Wikia is a free-to-use site that makes money from advertising. We have a modified experience for viewers using ad blockers

Wikia is not accessible if you've made further modifications. Remove the custom ad blocker rule(s) and the page will load as expected.