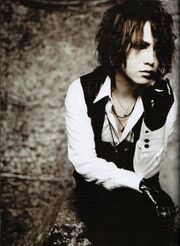 Birth Name: Matsumoto Takanori
Position: Vocalist
Birth: February 1, 1982
Blood Type: B
Birthplace: Kanagawa prefecture (Shounan district)
Height: 162 cm (about 5ft 4")
Weight: 50 kl
Foot Size: 25.5 cm
Ring Size: 17 cm
Family: Mother, father, older brother
Piercings: 5 on the right ear
Tobacco: Quit smoking, now he vapes . Was PIANISSIMO.
First Copied Song: Sex Pistols - Bodies
Liked Type: A self-aware person, a wonderful person
Disliked Type: An impure person, a stupid person
Strong Point: Genuine side
Weak Point: His self-consciousness
Charming Point: Height
Likes: Shopping, fashion, tattoo art, jewelry, dying his hair, photography, Orangina and music
Dislikes: Strawberries
What a girl can do to make him blush: "Glancing."
Previous Bands: Mikoto, Ma'die Kusse, Kar+te=zyAnose
Message: "Let's start from the bottom."
Quote: "When you're alive, dissatisfaction is unavoidable."
Ad blocker interference detected!
Wikia is a free-to-use site that makes money from advertising. We have a modified experience for viewers using ad blockers

Wikia is not accessible if you've made further modifications. Remove the custom ad blocker rule(s) and the page will load as expected.