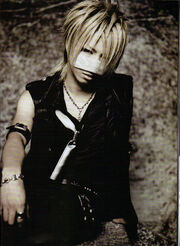 Birth Name: Suzuki Akira (鈴木晃)
Position: Bass
Birth: May 27,1981
Blood Type: A
Birthplace: Kanagawa prefecture
Height: 172 cm (5ft 8")
Weight: 55 kg
Foot Size: 26 cm
Ring Size: 17 cm
Family: Mother, grandmother, older sister
Piercings: 1 on the right ear, 1 on the left ear
Tobacco: Has quit smoking, used to smoke ne fume plus
First Copied Song: Luna Sea - Precious
Liked Type: Mature person
Disliked Type: A vulgar person
Strong Point: Himself
Weak Point: Pervyness
Charming Point: Air of mystery, eyes
Likes: Biking, cars, Kit-kats, spaghetti, watching movies, porn (he says he finds it fascinating)
Dislikes: Vegetables, his nose
Collection: Sex pistols
Previous Bands: Karasu, Ma'die Kusse, Kar+te=zyAnose
Quote: "I'm always thinking I want to do the best I can. It's better to try and fail rather than let a good chance go by."
Ad blocker interference detected!
Wikia is a free-to-use site that makes money from advertising. We have a modified experience for viewers using ad blockers

Wikia is not accessible if you've made further modifications. Remove the custom ad blocker rule(s) and the page will load as expected.