Girugämesh
Edit
This band formed in 2003, originating in Chiba, Japan.
This band has become one of the more commonly known J-Rock bands since their debut. They have released four albums, two extended plays, eighteen singles, and two demos.
Vocals: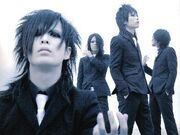 Satoshi
Guitar: Nii
Bass: ShuU
Drums: Яyo
Former members
Cyrien – vocals (2003, now with Sel'm)
Hotaru – guitar (2003-2004)
Discography
Edit
Albums
Extended plays
Singles
"Jelato" (August 3, 2004, distributed single)
"Midnight" (2004, distributed single)
"Kaisen Sengen -Kikaku Gata Enban-" (August 15, 2004)
"Mikongyaku" (August 24, 2004)
"Kuukyo no Utsuwa -Kyosaku Gata Enban-" (December 25, 2004)
"Kosaki Uta -Kaijou Gata Enban-" (February 8, 2005)
"Senyuu Kyoutou Uta" (split CD with Marusa, April 20, 2005)
"Kyozetsusareta Tsukue -Tandoku Gata Enban-" (June 17, 2005)
"Fukai no Yami -Mayosake Gata Enban-" (September 14, 2005)
"Honnou Kaihou -Kakusei Gata Enban-" (November 30, 2005)
"Risei Kairan -Ranchou Gata Enban-" (November 30, 2005)
"Rei -Zero- -Mukei Gata Enban-" (April 5, 2006)
"Omae ni Sasageru Minikui Koe" (April 12, 2006)
"Volcano" (DVD single, March 14, 2007)
"Alive" (June 10, 2009)
"Border" (August 5, 2009)
"Crying Rain" (October 7, 2009)
"Color" (July 7, 2010)
"Inochi no Ki" (イノチノキ)(October 6, 2010)
"Pray" (Japanese and English versions) (April 13, 2011)
"Zecchou BANG!!" (July 4, 2012)
"Zantetsuken" (September 26, 2012)
Demos
"Dekiai -Shisaku Gata Enban-" (2003, first release with Satoshi)
"Stupid -Kyoku Gata Enban-" (live distribution, 2007)
Live
"Crazy Crazy Crazy" June 3rd, 2009
"Gaisen-Kouen 'Chiba" February 22, 2012
References
Edit
Ad blocker interference detected!
Wikia is a free-to-use site that makes money from advertising. We have a modified experience for viewers using ad blockers

Wikia is not accessible if you've made further modifications. Remove the custom ad blocker rule(s) and the page will load as expected.