Aoi ((Gazette))
Talk

0
16pages on
this wiki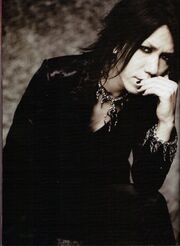 Real Name: Shiroyama Yuu
Part: Guitar
Date Birth: 20th January 1979
Blood Type: A
Birthplace: Mie prefecture (Kansai district)
Height: 171 cm
Weight: 55 kg
Foot Size: 26.5 cm
Ring Size: 19 cm
Family: Mother, father, older brother, older sister
Piercing: 1 on the right ear, 1 on left left ear, 1 on the lips, 1 in the belly button
Tobacco: Marlboro Menthol
First Copied Song: X - Kurenai
Liked Type: Good at cooking and gentle
Disliked Type: A person who gets angry easily
Strong Points: None
Weak Points: Hot-headed, grumpiest of the band
Charming Point: Whole body
Likes: Guitar playing, surfing, taking warm baths, 
What a girl can do to make him blush: "Just having her before my eyes."
Message: "Love & peace!"
Previous Bands: Mervilles, Artia
A quote from him: 

"I feel that, if you went on to pursue your dreams, something inside of you will change. And even if you couldn't realise your dreams, but you've worked hard for it- you've already progressed forward in life. You'll grow stronger in other aspects as well."